Is your business underperforming due to limitation of accounting software or non-integrated applications? NetSys can help you uncover new business opportunities utilizing the power of SAP Business One.
SAP Business One-Integrated ERP Software
SAP Business One is easy to use business management software aka ERP (Enterprise Resource Planning) designed for enterprises who want to connect end-to-end business process with single application at an affordable cost. 15 different functional modules each covering pre-defined built-in reports, are pre-integrated into one application in order to provide a complete picture of your business process and better control into operations.
Either you run SME or subsidiary, the integration capability of SAP Business One streamlines department information thus providing a single source of truth company-wide. Using the crystal report tool, NetSys can help you generate dynamic reports offering powerful business insights that are accessible at all times on any device. Ability to analyze business from new angles no doubt will give the executives more power to make better decisions, faster and accelerate profitable growth.
The simple user interface resembling standard Microsoft Windows makes it easier for users to run the system without extensive training and technical skills. If your business is not integrated at all levels, SAP Business one is one solution that you need today to manage your entire company-including finance, sales, CRM, procurement, operations among others thus automating much of day-to-day tasks to avoid redundant data entry and maximize business efficiency.
It's the only comprehensive solution that's affordable and priced right for enterprises, particularly small and medium sized.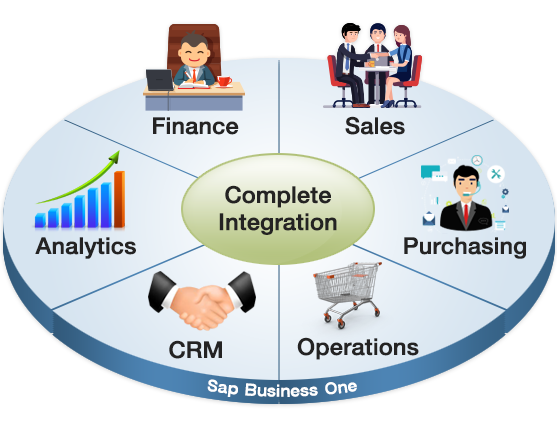 How SAP Business One differs from accounting software
No doubt, accounting is core to all businesses but accounting software does not offer the competitive edge that's key to the success from business process management perspective. It's merely a niche application that's limited to recording and reporting accounting transactions. SAP Business One on the contrary, gives you the power to control full range of functionalities into one platform. Providing a complete set of tools, SAP Business One also eliminates the need to purchase multiple non-integrated applications to manage your entire business which in real world remains a pain for many companies.
Modules
SAP Business One application consists of 15 functional modules each handling
specific business process as seen in the picture below.
SAP Business One is absolutely non-rigid application when it comes to deployment options between on-premise and cloud. Additionally, SAP HANA and Microsoft SQL server platforms are available, allowing you to choose the one that best suits your business.
Beyond the standard functions in SAP Business One, if your business has unique process requirement, partners like NetSys offer extensions in functionality called Add-On solutions to enable your business perform at higher level with extra capability.
NetSys currently offers Add-On solutions for retail, wholesale distribution among others ensuring seamless integration with SAP Business One.
SAP Business One is engineered to scale as your business grows. With this capability, business can choose not only to kick start at small scale but have option to add new users, roll out to new entity as required to accommodate future growth.
Leveraging the flexible customization architecture of SAP Business One, NetSys offers high quality development services to meet the statutory report requirements for your business. For all your business need pertaining to withholding tax, VAT report, statements, invoicing, and layout we have got you covered for full compliance.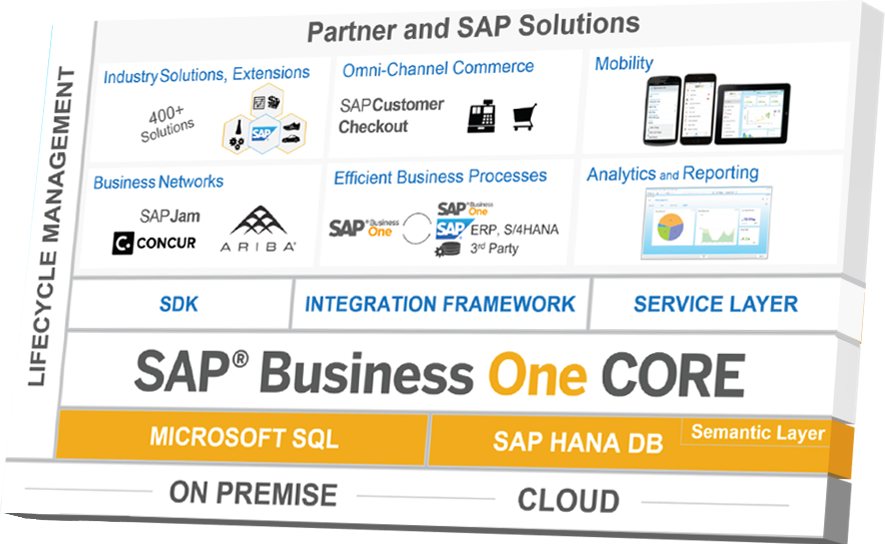 Benefits
Working with NetSys has helped our clients run business better utilizing the power of SAP Business One.
Some of the benefits shared by our clients:
Enhanced cash flow through accelerated invoicing
Simplified multi-currency report to parent company
Accelerated month end closing and more accurate report generation
Improved reporting procedures with powerful visualizations
Reliable indicators to make better decisions
Man hours saved on extraction of inventory and sales data from multi-location warehouse
Transparency in cost of each item